Release, Surrender & Let go workshop with Kelly Jarvis 
A 2 hour workshop as a gift to yourself. In this workshop you will have the opportunity to explore self inquiry and awareness activities / discussions, Pranayama ( Breath work) , Guided meditations, Gentle Flow and intuitive movement , restorative healing movement,  savasana and deep meditation.
This workshop is a perfect opportunity to learn everyday Mindfulness , Meditation and yoga postures to help you on your path to releasing stress from your body & Mind.
You will come away from the workshop with resources and worksheets to take away with you as part of  continuing your  self inquiry journey at home.
Kelly Jarvis is a Yoga and Meditation Teacher accredited by the British wheel of yoga specialising in restorative, vinyasa flow , pregnancy , yin and hatha yoga.
Kelly Jarvis is currently training in her 580 hour diploma with the minded institute to become a yoga therapist with a key interest on working with individuals with specialist physical and mental health conditions.  Kelly has a down to earth manner and style to her teachings and understands the need to translate mindfulness and yoga practices in a way that can be useful to everyday life to help you truly flourish and shine your own light.
Kelly Jarvis welcomes you to join this workshop and if you have any questions to email her on 
contact@kellyjarvis.co.uk
 or ring / leave a message for her on 07725079663.
All levels welcome.
Saturday the 30th October.
4-6pm.
£25 per person
@Kellyjarvisyoga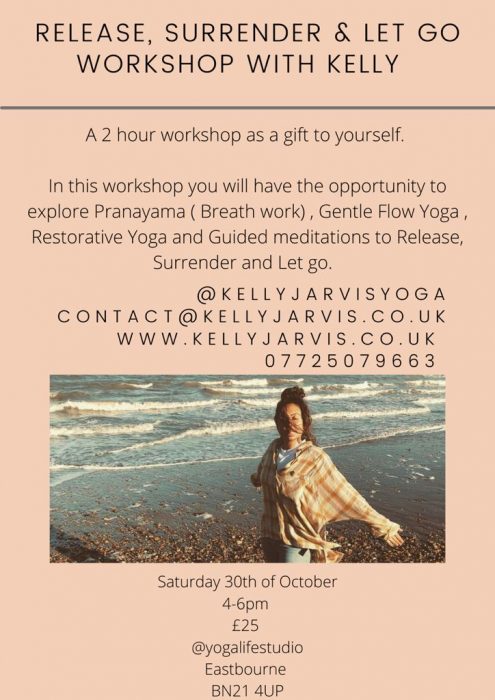 Booking
Bookings are no longer available for this event.