Cuckmere Yoga Day Retreat with Eva Kristlova and Sonal Thakrar
August Bank Holiday Monday – 31st August 2020
10.00am – 3.30pm
As we enter a 'new' way of being, navigating into what may look and feel like 'normal' in our individual experiences, reflecting on what the last 4 months may have meant for you, one thing is for certain – we all want to invite more JOY into our lives!
We decided to bring that energy alive by by creating a fun adventure day retreat right in the heart of Cuckmere, close to Eastbourne and Seaford.
Sonal and Eva will start the day at Jijie's Rest Alpaca Farm in Selmeston where we will be greeted by a large flock of the friendliest adorable alpacas as we arrive in our mandala space, ground to the Earth, set our intentions, journal and contemplate.  Eva will guide you through a slow movement meditation practice whilst the alpacas graze around us.
We then transit to Cuckmere for a stronger dancing moving meditation yoga practice on the hills of the South Downs overlooking the sea, guided by Sonal.
Next we contemplate our intentions and journal questions during a walking meditation towards a scenic river and sea.  We will enjoy a forest walk before sitting down for a fresh light lunch overlooking the stunning Cuckmere Estuary.
We will close our mandala ritual after lunch before we head off to the river for paddle boarding and yoga/fun on the boards guided by Eva, leaving everyone free afterwards to stay as long as we choose or to head to the beach for a paddle or swim!
A JOYFUL FUN ADVENTURE
grounding and breathing in the fresh air of Mother Nature, inviting the 5 elements to dance with us.
What to bring:
Your own yoga mat (props as you need them) and maybe something to sit on
A journal and pen
Sunscreen and sun hat
A change of clothes and towel in case you get wet!
Optional swimwear
Any snacks and water (lunch is provided)
Small change for coffee
Wear comfortable clothes suitable for yoga and walking
What is included:
Entry to Jijie's Rest Alpaca Farm
All yoga sessions
Lunch
Paddle Boards (kayaks if you prefer)
parking
Investment for the day: £75
Spaces are limited to 10 people so please book quickly
Travel by car is most convenient as we will meet at the alpacas farm and then drive along a scenic route to Cuckmere where most of the activities will be by foot.
Details of address of arrival and additional parking information will be provided after booking has been confirmed.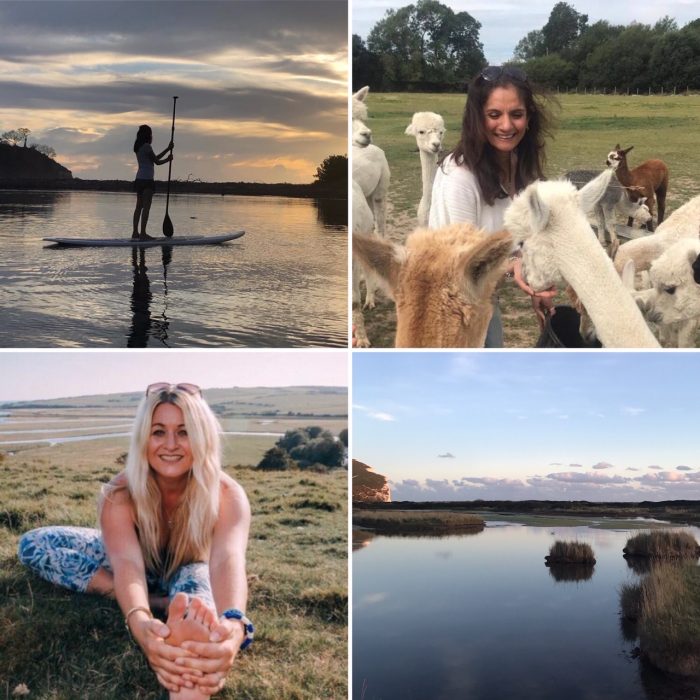 Booking
Bookings are no longer available for this event.