Can you tell us what we can expect in your class?
Our friendly Friday morning class is a gentle Hatha Yoga session – starting and ending with relaxation, some breath exercises and incorporating a variety of stretches on the mat and standing postures. A great way to treat yourself and let go of the week in preparation for the weekend ahead.

When did you first realise that you wanted to be a yoga teacher? What was the wow moment if any?
It was something that felt quite natural to me – I had put it off as something I might do sometime, then one day I realised there was no time like the present!
Where is your favourite place to practice?
I'm not just saying this because you are asking me(!), but I think of the Yoga Life Studio as my yoga home. It has a very special energy and it's always a joy to practice there. I also love to practice at home (however what was my yoga space has recently been taken over by my daughter's new pet rabbit!) Outdoor yoga is a real pleasure, especially near the sea.

Have you got any advice for new students?
Yoga is for everyone… yes, really! Try a variety of classes if you can, so you find the style that suits you best. Take your time, and be kind to yourself. Stay aware of your breath, and whenever in doubt, come back to simply observing it. Don't push yourself to stretch or reach as far as the person on the next mat if it doesn't feel right.

It keeps me on an even keel, no matter what's going on around.
What is your favourite posture/practice and why?
Hard to choose, but a gentle flowing cat/cow/child sequence to calm and balance + wonderful for keeping the spine in check.

Can you share 3 interesting facts about yourself?
1. Many years ago, while studying Art History, I travelled to India to photograph a Persian illustrated manuscript kept in a library, which had once been a Nawab's palace, in a remote town – I have the photographs of the paintings, though not of the trip – it was like a fairytale.
2. Before I was a yoga teacher I worked for an opera singers' agency.
3. I am half Scottish and half Pakistani.


What is your personal motto or favourite quote?
Be humble, for you are made of earth; be noble, for you are made of stars.
Safia teaches Gentle Hatha Yoga on Friday at 10am.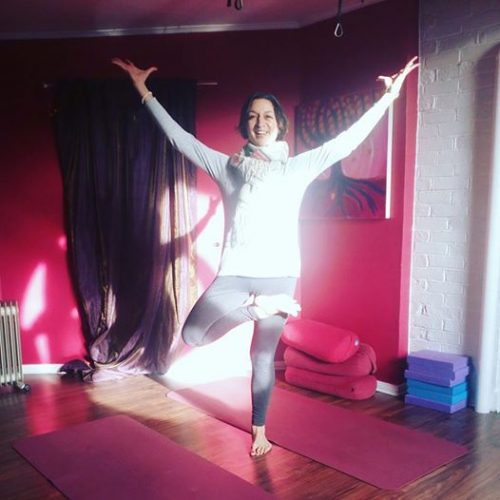 Photo credit – Megan Bowley 🙂