Bring your baby and come to this supportive and relaxing class. Yoga is a wonderful way to look after yourself in the months after birth. It brings a sense of well being and equilibrium, alleviates tiredness and aches and pains, maintains good posture and reminds you to relax.
It is perfectly natural for you, as a new mother, to devote most of your time and energy to caring for your new baby and this can leave you feeling drained and overwhelmed at times.
These regular weekly classes aim to regenerate your flagging energy and provide time for you to nurture yourself. We practice mindful breathing with yoga postures that gently stretch and rebalance the body, undo tension and combat fatigue.
Special reduced price until the end of this year – £5!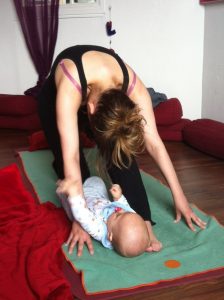 For more information on this class click here