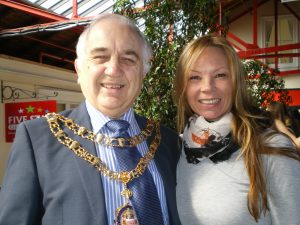 The Yoga Life Studio has yet again held another successful Wellbeing Event.
One of our many passions is to bring the community together; and we did on Saturday 20th April, showcasing the best of what our beautiful town has to offer in Natural Health and Wellbeing.
On our Open Day we had invited local therapists, teachers and artists together who created a free fun filled day for all ages. Throughout the day the bright and beautiful Yoga Life Studio was jam packed with enthusiastic people taking part in everything from Yoga classes, karate, thai chi to drumming. The top floor at the Enterprise Centre was alive and full of stall holders showing off their artistic talent, offering free massages, health checks, raw chocolate tasting, talks and much much more.
It was a huge success for all the participants and visitors.
This special event was officially opened by the cheerful Eastbourne Mayor, whom continues to support the Yoga Life Studio.