Kundalini Goddess New Moon Ceremony
Come and join me for this sacred Kundalini Goddess New Moon Ceremony held at the beautiful Yoga Life Studio in Eastbourne. During this New Moon Manifesting Ceremony you will learn how to enter into the frequency of unlimited potential. Join this scared space of like-minded souls to connect deeply with yourself and the universe to create the life you want to live. The new moon cycle is a time of rebirth and new beginning.
Awaken the goddess within by activating your Kundalini Energy with breath work, movement, meditation and energy healing. You will learn how to quieten the mind to dissolve negative, low vibrational thoughts and emotions. We will use powerful mantra and heart opening meditation  to produce feel-good vibes, elevating you in to a joyful and peaceful state of receptivity. When you align your energy with love and joy it puts your manifestation into motion. Take the first steps to learning how to co-create with the universe!
Through my teachings you will rebuild and strengthen your sense of self, to be rooted in self-belief and love for all that you and all that you're destined to be. You will have the courage to trust your inner voice and be bold in following the call to heal and grow. When you step into the frequency of the heart, you can make decisions with confidence and manifest in true alignment to your soul purpose.
Kundalini Goddess teaches you to love and nurture yourself to become the best version of yourself. By igniting the power of the soul you will learn to trust in the guidance that you receive. You will learn to no longer doubt your intuition and listen to your authentic voice within.
Say Yes to YOU! Join me.
Come and feel the magic of authentic connection, opening your heart to divine source energy and abundance. Open to everyone. Bring your friends or family. No experience necessary all you need is an open mind and desire to deepen your connection to yourself and spirit. Kundalini Goddess Ceremonies include:
Channelled group guidance
Breathwork
Movement
Chakra/Energy Healing
Mantra and Meditation
Ritual & Goddess Invocation
Angel Oracles and prayer
Full Moon Intention setting
How to Prepare
This event is open to all levels. All that is required is an open mind and the mobility to participate the best you can doing the movements.  Yoga mats provided, bring a cushion (if desired), and blanket as well as water. We will be seated on yoga mats. If you really struggle being crossed legged on a mat, you can have a chair to sit on. A few days before the event I will email all attendees some preparation to initiate self-enquiry.
What is Kundalini Goddess?
Find out more at www.soulpowerkundaliniyoga.co.uk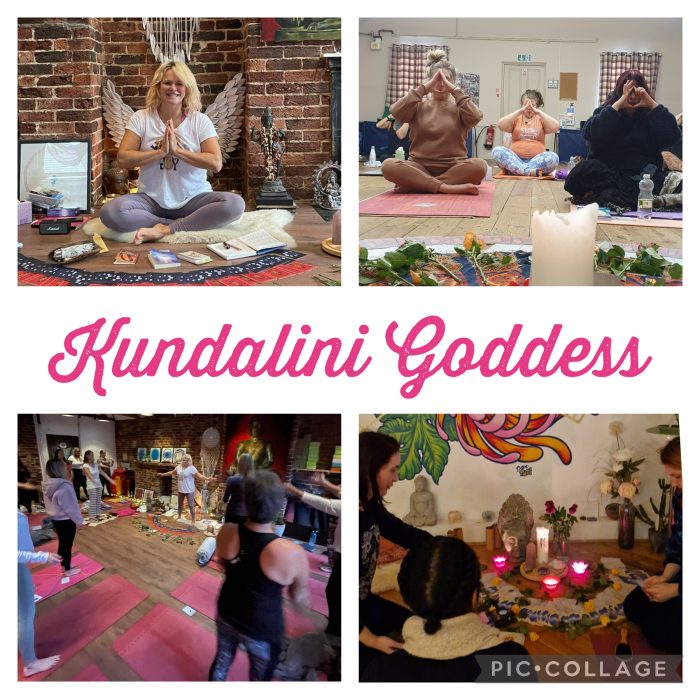 Booking
Bookings are no longer available for this event.