Don't wait any longer, your soul is longing you to step in to your light now. You're heart knows the way. Join Katie Ingham to ignite your Soul Power and awaken the Goddess within at this special Kundalini Goddess Ceremony, held at the Yoga Life Studio in Eastbourne on Saturday 5th of November.
During this Kundalini Goddess Ceremony Katie will create a sacred space for you to still your mind and step into the frequency of the heart. It's time for you to radiate your light and break free of self-sabotaging patterns, thoughts and behaviours which prevent you from sharing the true beauty of who you are.  Through Katie's unique fusion of Kundalini Yoga, Healing Meditations, Divine Feminine Activations, Spiritual Connection & Ritual you will awaken the goddess within and experience what it is to live in your soul power.
Kundalini Goddess teaches you to love and nurture yourself to become the best version of yourself. By igniting the power of the soul you will learn to trust in the guidance that you receive. You will learn to no longer doubt your intuition and listen to your authentic voice within.
You are invited to open the door within, to receive divine guidance, clear direction and great wisdom so that you can shine your light brightly.  Through my teachings you will rebuild your sense of self that and strengthen, rooted in the self-belief and love for all that you and all that you're destined to be.
Say Yes to YOU! Join me.
Come and feel the magic of authentic connection, opening your heart to divine source energy and abundance. Open to everyone. Bring your friends or family. No experience necessary all you need is an open mind and desire to deepen your connection to yourself and spirit. Kundalini Goddess Ceremonies include:
Channelled group guidance
Breathwork
Movement
Chakra/Energy Healing
Mantra and Meditation
Ritual & Goddess Invocation
Angel Oracles and prayer
Intention setting
You are welcome to join in person or online via zoom.
About Katie:
Katie is a Kundalini Yoga and Meditation teacher specialising in soul growth. She helps seekers to find peace and fulfilment in their lives by awakening them to their soul power.
During my 5 years of teaching, I have fusioned divine alchemy with traditional practises of Kundalini Yoga to create my own unique signature offering of spiritual growth, healing, empowerment and transformation. I created Kundalini Goddess to help women to awaken to their divine feminine power and take ownership of their ability to create the life that want to live through self-love, nurture and compassion.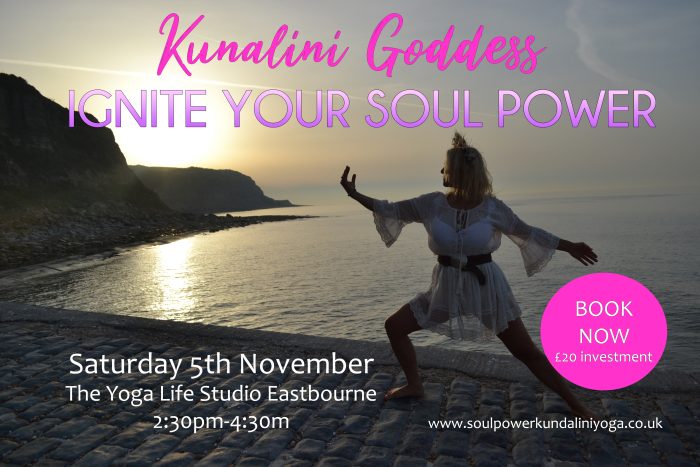 Booking
Bookings are no longer available for this event.