Chant & Chill Workshop & Healing Sound Bath with Bella Friedman
No chanting experience or bathing suit required
Join us for a beautiful combination of chanting, using our own voices as healing tools, followed by crystal bowls sound bath.
My background as a linguist and a musician has naturally led me towards deeper exploration of the power of sound, be it using various healing instruments or working with the vibrations contained in the ancient sacred sanskrit mantras.
Here in the beautiful Yoga Life Studio, we started a small chanting circle for people with no experience in chanting. As our numbers have  grown, we could clearly feel the energy snowballing effect. The room where we practise becomes a container of powerful healing potential.
Why chanting – and why in Sanskrit? Chanting  is the easiest way to bring the mind to a calm space. Some of the other benefits of chanting include
Great way to improve your breathing. The process of chanting is a process of exhalation. Chanting will eventually extend the length of exhalation, improving your breath. There are numerous studies on the breath-mind-well-being connection
Self-development – consistent practice leads to development of clarity, will-power, self-reliance, confidence, attention, listening, concentration, cognition, memory.
This list would be incomplete without including the study on "The Sanskrit effect" – in which MRI scans showed that memorising ancient mantras increased the size of brain regions associated with cognitive function.
These are just some of the benefits apart from the deep healing potential that work with sound brings.
After our chanting workshop, we will then settle down comfortably on our mats, snuggled into our blankets and cushions to welcome the crystal bowls vibrations allowing ourselves to receive their powerful healing.
Followed by light refreshments
Investment: £20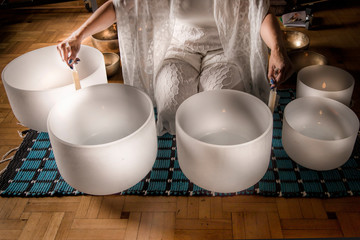 Booking
Bookings are no longer available for this event.