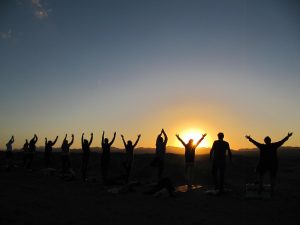 In January we returned from a wonderful Retreat in Egypt. Those lucky enough to join us know what an epic journey it was for us all, thank you for making it such an amazing week!
Egypt offered us a week of living in freedom through every breath and movement, taking us home to our flowing essence.
We are continuously growing and changing, moving in rhythms, expanding and contracting. If we don't follow this continuous ebb and flow we get stuck. We need to learn to tune in and ride the wave of change, sometimes proven difficult for many. We get stuck, stagnant and we loose our way. The Yoga Life Retreat – Dive into Yoga offered us the chance to get back into alignment, to let go and relax into our flow.
We dived into this week and explored the very depths of our selves and we returned reborn in many ways. There was a renewal; so pure and fresh. Our epic journey brought light into our hearts, sparkle in our eyes, our skin brown and plump, laughter filled the air…we became utterly Pranafied through our Yoga, by the elements and the beautiful land and people.
We were held in gentleness allowing a powerful transition to take place individually and collectively. We dared to soar and fly, to believe in our wildest dreams.
There was magic in the air every evening as the sun set over the desert and rose again hosting another exceptional day…a truly Blissful week it was.
Our next Yoga Life Retreat to Egypt Marsa Alam is June 5-12th 2013
Live in your Flowing Essence
Wenche xx