There is a very special farm in Selmeston… Alpacas, ponies, sheep, pigs and chicken live here..together with their loving human family. When the owners of Jijies Rest Alpaca Farm contacted me asking if I would consider running a yoga class with alpacas there I didn't have to think long, immediately I said 'of course I will'!
The alpacas are super friendly and cute, all 25 of them including 5 babies! They are really curious about all that we do and love the food that we bring them (its  a bucket full of muesli) Each time we come to the farm they get a bit more friendly and adventurous, we can hear their soft steps around our mats, they sniff our backs when we rest in Balasana, they watch us carefully when we come up into our Tree pose. I am sure they will strike a pose one day soon too!
We are keeping the class limited to 10 participants to ensure a really special and therapeutic effect for both the animals and our yogis.
The highlight of the class is arriving on the farm, walking towards the alpaca field and  as soon as they spot us they start running towards us greeting us and lining up curiously  observing us with their beautiful big eyes  and waiting to be fed.  Once we settle on our mats they join our circle as if they are planning to practice with us.  They have the funniest and totally adorable faces! As my yogis say this is the best class around, you will leave totally high, smiling from ear to ear and completely recharged. The healing power of yoga and animals!
Booking essential as spaces are limited.
Investment £10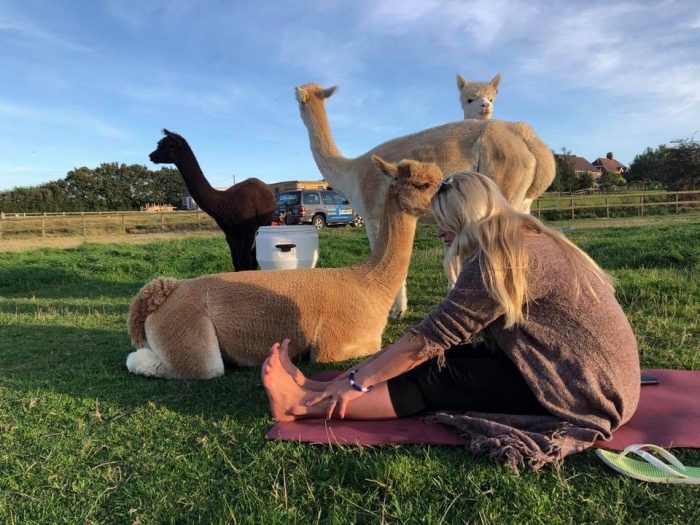 Booking
Bookings are no longer available for this event.