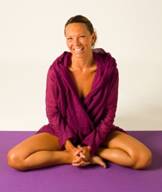 Welcome to The Yoga-Life studios first Blog. It is with great excitement we are launching ourselves onto the web and aim to share some exciting and informative news about Yoga and Wellbeing with you all.
My name is Wenche Beard and I am the director of The Yoga-Life Studio which is a beautiful Yoga studio in the heart of Eastbourne, East Sussex. I was born in Norway, I have lived in California where I met my husband, and we now live in the UK with our two children. I work closely with clients using different alternative therapies as well as running retreats in the UK and abroad.
I have been teaching yoga for almost 11 years now and have never looked back. I combine my love of teaching yoga with meditation and conscious breath work. My aim is to create a safe space to allow an unfolding of yourself and discover that yoga can be fun as well as meaningful on the road to self realisation.
Wenche x