An exhilarating morning of wellness & good food with heartwarming yoga
Yoga & Brunch On The Beach
12th September 2020, 10 am – 12 pm
Venue: Seafront by Holywell in Eastbourne
60-minute yoga class & Brunch by Lerato
Join us to refresh our minds and bodies with exhilarating yoga, sumptuous and healthy food on the beautiful Sussex coast. This is a great chance for meditation, relaxation and re-invigoration to support our daily lives and motivate us to be mindful and nurturing to ourselves.
With over ten years of experience as a certified yoga instructor, Eva Kristlova of the popular Yoga Life Studio in Eastbourne will lead our yoga session with her usual grace and positivity. 
Lerato is a tv chef cookery writer and the founder of Lerato Cookery School & Kitchen, a community cookery school in Eastbourne. Classes also take place in London and Brighton. Her supper club, cookery classes food have attracted food lovers from members of the public to celebrity chefs, and brands such as Waitrose, Divine Chocolate, GlaxoSmithKline and more. See here more here.
What our past yogis have said:
"I had an amazing morning and didn't want to go home. I will be looking out for others to attend. Well done to all for the amazing yoga, venue and lunch." By Jennifer Williams  – Yoga in a Yurt 2017
Yoga & Afternoon Tea Menu
Refresh 
Strawberry & Tomato Salad
A refreshing salad with summer's bounty, cucumber, lemon & pomegranates
Replenish
Chickpea Tarts with Beetroot Hummus & Caramelised Onions
Cauliflower Steaks with Chickpea, Tahini & Beetroot Purée
A sweet treat
Gourmet Vegan Brownies With Chocolate, Oats & Dates
BYOB
You can also bring your favourite drinks 
*Please advise on dietary requirements and allergies. The menu may be changed slightly due to seasonal availability. 
The menu is plant-based, gluten-free, nut-free and suited to most diets. 
You can also join the mailing list for updates or email lerato@leratofoods.com 
Eva' s classes are suitable for everyone. Pregnant women are also welcome to join us. If you have any questions about the yoga class please email Eva at info@yoga-life.co.uk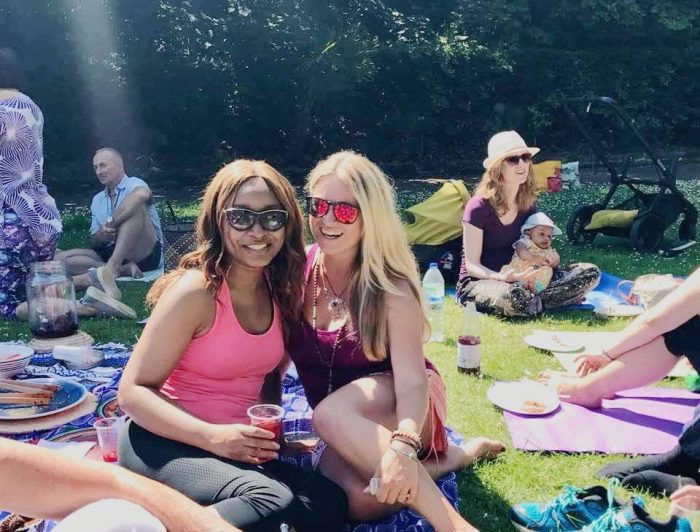 Booking
Bookings are no longer available for this event.